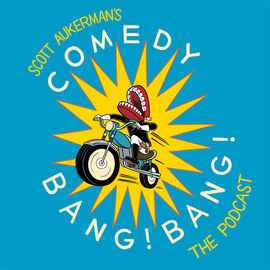 A fan-created wiki about the Earwolf comedy podcast Comedy Bang! Bang!, hosted by Scott Aukerman.*
Feel free to email us: cbbwikia@gmail.comor follow us on Twitter: @CBBwiki
Why a Wiki?
Edit
Ever remember a CBB bit but don't remember which one, or who said it, or when it was? This wiki is here to (try to) help you out! From Dame Sir Lord ALW to Harris's Foam Corner to Hollywood Facts to Crowbots, it's all here. Well, not yet. Eventually.
You can help!
Edit
Idly listening to an episode as you while the workday away? An unexpected b-b-b-bonus-s-s-s-s episode just dropped? Add a page for it, or update the page we have!
Your favorite character somehow doesn't have their own page? Make it so! You are the judge Judy and executioner!
Feel free to add any information to the relevant page or if you have any notes or ideas add them here.
What's here already?
Edit
Check out the episodes, the guests, the characters, and the recurring segments that are already written up.
This site is dedicated to the podcast and not the TV show, though we have a little bit about that as well.
Ad blocker interference detected!
Wikia is a free-to-use site that makes money from advertising. We have a modified experience for viewers using ad blockers

Wikia is not accessible if you've made further modifications. Remove the custom ad blocker rule(s) and the page will load as expected.