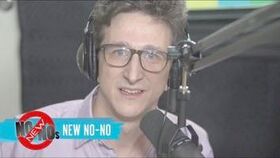 New
No-Nos
is a segment in which frequent guest
Paul Rust
rants about things that cheese him off, piss him off, or cause him to become peeved or miffed. The segment has appeared on the podcast as well as
the TV show
. He also has a series of books based on the New No-Nos premise:
The Snotty Chronicles
Hey, Get Out of Here, Buddy!
Not So New No-Nos (historical New No-Nos)
New No-Nos
Appearances
Edit
Ad blocker interference detected!
Wikia is a free-to-use site that makes money from advertising. We have a modified experience for viewers using ad blockers

Wikia is not accessible if you've made further modifications. Remove the custom ad blocker rule(s) and the page will load as expected.