What's up, hot dog?
"The Farting Fuck Faces"
is episode 75 of Comedy Bang! Bang! (then Comedy Death-Ray Radio). Hosted by
Scott Aukerman
, it stars guests
Mike Birbiglia
,
Henry Phillips
, and
Mark Zuckerberg
(
Matt Besser
). "The Farting Fuck Faces" was released on October 12, 2010.
Earwolf Synopsis
Edit
This week's theme on Comedy Bang Bang is well-adjusted adults who take criticism well and never had issues being accepted as adolescents. Sleepwalker Mike Birbiglia shares with us, in Mike Birbiglia-style detail, how he and Nathan Lane became friends, what it's like to do comedy at a college, and how close he was to becoming a world class break dancer. Songstress Henry Phillips sings about the joys of Los Angeles, how much he enjoyed high school, and how to just say "Oops" when something goes awry. Punk-Billionaire-Genius Mark Zuckerberg shares some data with Scott regarding their shared love of The Beatles, The Big Lebowski, and Asian women. Pop culture aficionados will enjoy a rare trailer for the film Nowhere Boy, which is one short game of Fortunately Unfortunately away from a fantastic round of plugs.
Scott and Matt play various characters in a Beatles' biopic trailer, "Nowhere Boy."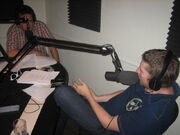 Mike reads excerpts from his new book, "Sleepwalk with Me." A game of "
Fortunately Unfortunately
" is played.
Scott thanks Reggie Watts for coming by to play the theme song and apologizes for not thanking him the previous week.
This episode title is repeatedly referenced in Birbiglia's second appearance, episode #260: Tiny Cheeseburger Story.
Ad blocker interference detected!
Wikia is a free-to-use site that makes money from advertising. We have a modified experience for viewers using ad blockers

Wikia is not accessible if you've made further modifications. Remove the custom ad blocker rule(s) and the page will load as expected.